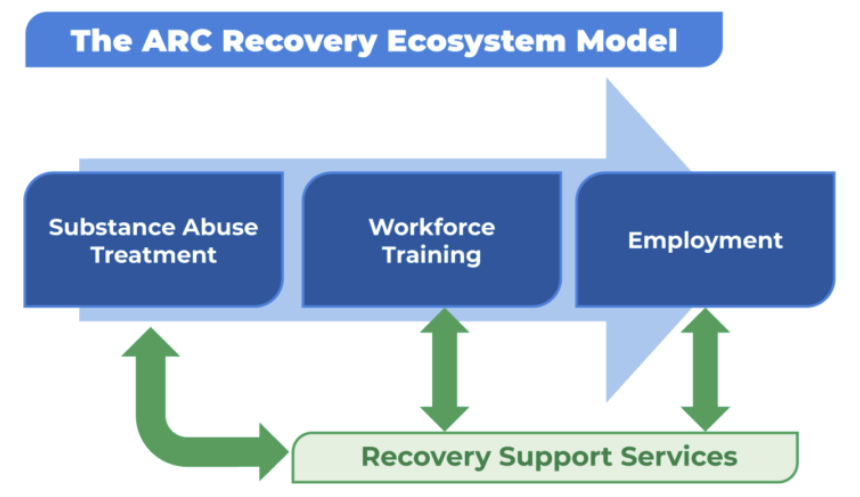 With funding from the Appalachian Regional Commission (ARC), DDAA has embarked on a project to strengthen "recovery-to-work ecosystems" in Appalachia. With substance use disorder a major crisis in the Appalachian region, ARC sought ways to utilize the unique capabilities of local development districts, ultimately developing the concept of a recovery-to-work ecosystem. The ecosystem concept developed by ARC emphasizes the regional coordination of recovery services, workforce training, and employment to help those individuals in recovery from substance use disorder achieve lasting employment.
2021 Cohort Learning Academy Applications
In the Recovery-to-Work Cohort Learning Academy, regional teams convene with subject matter expertise and facilitation support to develop plans that aimed at addressing the local opioid and alcohol abuse crisis. Substance use recovery efforts require collaboration to help individuals become stable contributors to the workforce and to engage employers in providing jobs that are critical to long-term substance use recovery and economic revival. This project supports regional efforts to develop a stronger network to fight the crisis — a successful "ecosystem" of regional organizations working together to help those recovery from substance use disorder find and keep jobs. The success of these individuals is vital to companies suffering from labor shortages or concerned about labor turnover.
Recovery-to-Work Cohort Learning Academy Reports
Through the Cohort Learning Academy process, DDAA has refined the concept of a "recovery-to-work ecosystem" and learned a great deal about challenges and best practices in their development. Click the above link to find the final report, "Addressing Appalachia's Substance Use Disorder Crisis Through Recovery-to-Work", which includes the "Recovery-to-Work Ecosystem Framework", a series of goals, challenges, solutions, and activities that regions can undertake to support recovery-to-work ecosystems. DDAA has also included reports from the Cohort Learning Academy and profiles for each of the participating regions.
DDAA has developed a resource page for those interested in developing their recovery-to-work ecosystems. This page includes tools, guides, reports, news articles, and more.