Recovery-to-Work Technical Assistance Opportunity
Test Drive the Recovery-to-Work Ecosystem Builder's Guide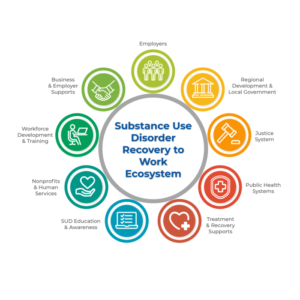 Local and regional leaders face many challenges in engaging employers and coordinating stakeholders to support their substance use disorder recovery initiatives.
DDAA is here to help leaders learn how others are responding to this challenge and provide a guide and resources to build their recovery-to-work ecosystems.
DDAA is offering technical assistance, network building, and informational resources to help you better coordinate with your partners into a more organized ecosystem.
What?  
With support from the Appalachian Regional Commission, DDAA is offering technical assistance supporting recovery-to-work efforts for up to 12 regions in the Appalachian Regional Commission territory. Regions will pilot the soon-to-be launched Recovery-to-Work Ecosystem Builder's Guide, which provides practical guidance in building regional capacity to connect people in recovery from substance use disorder to good jobs.  
Participating in the pilot will offer early access to the guide and targeted technical assistance in navigating the tools and resources included. This will include targeted facilitation to identify ecosystem gaps, identify partners, and assist in strategy development related to funding. Participants will engage with a cohort of peers dealing with similar opportunities and challenges in building regional ecosystems. The technical assistance will also include working sessions and a report on workforce data issues and opportunities, tailored to the needs of the cohort of TA regions.
Further, DDAA is developing a Community of Practice separate from this technical assistance opportunity. TA recipients will have the opportunity to engage with webinars, virtual meet-ups, and an in-person learning exchange. 
Who?  
This opportunity is targeted at Appalachian regions in the early stages of building a recovery to work ecosystem. DDAA is using the same eligibility as that of ARC's INSPIRE Initiative grants: 
Local development districts (LDDs)

Indian tribes or a consortium of Indian tribes

States, counties, cities, or other political subdivisions of a state, including a special




purpose unit of a state or local government engaged in economic or infrastructure




development activities, or a consortium of political subdivisions

Institutions of higher education or a consortium of institutions of higher education

Public or private nonprofit organizations or associations


Note: ARC does not award grants to for-profit entities.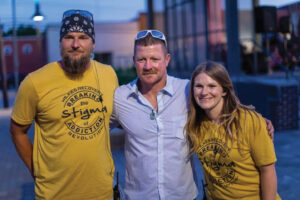 When?  
Technical assistance will begin in April 2023 and conclude in December 2023:
March 1, 11:00 AM ET Informational Webinar (Recording  and Slides)
March 1, 12:00 PM ET:  Application Portal Opens
March 2: INSPIRE Grant Writing Training (Register Here)
March 22: Technical Assistance Application Deadline 
April 7: Selection Notification 
April 20: Cohort Kickoff Meeting (Kickoff and Networking Session)  
May – December: Regular Cohort Meetings and Individual Regional Sessions with Facilitator
December: Cohort Closing Meeting 
How?         
To apply, please complete the below form to help us learn more about your recovery-to-work efforts and what resources and information would benefit your project's development. Applicants are strongly encouraged to attend the first networking and information session on March 1. Space is limited – apply soon!